30 Jun 2013 4 Comments
0 Trackbacks
0 Pingbacks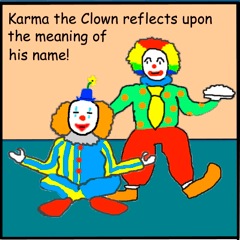 "The universe will do as the universe does, if only I could control it a bit better!"
This was a thought which came to me while I was meditating. It made me smile. I often smile now, when I am meditating. The practice has revealed to me some of the lighter aspects of myself and my relationship with anxiety.
I started meditating reluctantly.  For quite some time, a number of my friends have been encouraging me to try it. One friend recommended a book that he found useful. It sat on my end table for weeks. Every time I sat down to watch TV, I saw it lying there unopened.
"What a waste of time meditation is!" I thought as I sipped my beer, scratched my belly and watched reruns of "Gilligan's Island". Something struck me odd about that thought. I finally turned off the TV and started reading.
There were several kinds of mediation described in the book. One, was a walking meditation. This one appealed to me right away. I could do two things that were supposed to be good for me at the same time! On further reflection I decided not to approach this by trying to be efficient.
So I started from the beginning with the breathing meditation.
read more