Why Daddy Why?
A Child Screams
A Mother Cries
Why Daddy Why?
Shattered Glass
and Blackened Eyes
Why Daddy Why?
Please STOP! I beg but no one hears
this Broken Child's Cry
The Screams, The Cursing, Please STOP!
I Just want to Die
A Mother Hides Her Blackened eye
with Shades
and
Sun hidden in the Sky
Where are the Dolls? the Laughter?
The Bicycle Rides?
the Memories of Those carefree years?
They Are With A Woman now
with Tears and Fears
of a Scared little Girl who
Died Inside
Written by: Karen
Fearful Beginnings
I am an adult now, but when I reflect on my life I remember being a nervous, scared little girl. I was plagued with numerous fears and crippling asthma attacks. I was rushed to the ER more times than I can remember (now medical research has proven asthma is aggravated by stress).
I believe what started the panic attacks was the circumstances of being a child living in a violent, chaotic household. I was subject to witnessing my alcoholic father physically abuse my mother many times. I can recall being about 5 years old and the feelings of helplessness and terror as I stood in a corner and watched my father abuse my mother. I would scream and cry, afraid he was going to kill her.

Symptoms Manifest
I remember going to my first therapist at 10 years old. My parents had separated for good this time. In later years when I asked my mother what made her seek out therapy for me, she said she saw signs that I was nervous; nail biting and frequent yawning.
I have since learned when you have anxiety, especially anxiety attacks, your body has a tendency to hyperventilate. When you hyperventilate, your body starts to feel like it's not getting a full breath. As a response you yawn because yawning expands the rib cage and sends a signal to your brain that you did indeed get a full breath. In this sense, yawning is trying to tell your body to relax.
A Life Interrupted
Throughout my life my panic attacks would manifest daily with intensity. At other times, months and even years would pass by and I felt almost normal. Even when my life was in a state of upheaval the anxiety stayed away.
There was no rhyme or reason, nor warning as to when, or where a panic attack would occur.
A very difficult time for me was when I was 16 years old. A junior in high school, I was having full blown, crippling panic attacks daily though I did not know what to call them then. I can remember being in class trying to concentrate and waves of intense fear would engulf me. I would dig my fingernails into my hand until it bled (I know now this was a form of self-harm) re-directing my thoughts to the physical pain rather than the terrifying symptoms of the panic: racing heart, cold sweats, dizziness, and feelings of losing control. My main goal was just to get through my class.
When I realized the situation was not getting any better, I finally told my mother and she found a therapist for me to talk to. I do not recall any specific details of the sessions. I do know I cannot remember hearing the words "panic" or "anxiety attacks" used nor was I given any medication.
The attacks eventually subsided on their own.
Panic Makes No Appointments
I have learned my panic attacks can happen when I am stressed, or calm, when I am angry or happy, when I am awake, or sleeping. It is a common medical condition, and affects more women than men.
My panic attacks peaked in 1996 with great intensity. Was it caused by stress? Yes, I believe mine was. It was an extremely overwhelming time in my life. I was separated from my husband, living on my own, working full-time and raising my 2 small children. I was having horrific, crippling panic attacks several times a day, and they would happen anywhere: on the bus, at my job, even grocery shopping.
I finally made an appointment with my General Doctor and explained what was happening. My symptoms of light-headedness, queasy stomach, racing heart, muscle tension, and feelings of losing control.
He gave me a prescription for Xanax; a drug used to treat anxiety/panic disorders. He said to take it on a "as needed" basis, which I did.
The medication helped for a while but then seemed to stop working for me. I returned to my doctor and he referred me to a psychiatrist. The psychiatrist spoke with me and recommended I talk to a therapist and take Klonopin which he prescribed.
Klonopin is an anti-seizure medication but also used to treat panic disorder and it worked! I could function again without the fear of going outside of my house and losing control. I could go to the hairdresser and not worry if I was going to have to leave due to feeling anxious. I could do my grocery shopping and function like a fairly normal human being.
The only downside of Klonopin (generic name clonazepam) is like all benzodiazepines, clonazepam can cause physical dependency. No one told me this and of course over time my body built up a tolerance. So the dosage had to be increased.
I thought I would be needing this medication for 6 months to a year. I started in 1996 and it's now 2014 and I still require it. My doctors have tried to wean me off of it but it is an extremely slow process. You CANNOT stop cold turkey because this may result in severe illness.
Some Coping Skills
Do I still get panic attacks? Yes, but they definitely are less intense, and more controlled, and throughout the years I have learned some coping skills from therapists, doctors and on my own that I would like to share:
If at all possible avoid all caffeine. Caffeine is a stimulant and can trigger an anxiety attack. If you cannot avoid it totally, at least try to diminish your intake.
Music. If I am driving or a passenger, I listen to enjoyable fun music I can sing to. It often helps distract me so I do not focus on the physical sensations I may feel if I am getting anxious.
I do not watch the news nor do I buy the newspaper. I know it can trigger worry, which can lead to obsessing and fear-filled thoughts that can trigger a panic attack. I will turn on the news and watch the headlines, but I definitely will not watch the news before I go to bed.
I also recommend taking B-complex vitamins, as they have critical nutrients for all things mood related. The right amount of the B vitamins can diminish anxiety and lift depression.
Practice deep breathing. During a panic attack we tend to hyperventilate. Breathing deeply can help reduces stress. Try to take a maximum of 8 breaths per minute; take 4 seconds to inhale, hold your breath for 2-3 seconds, then take another 4 seconds to exhale.
Pray/Meditate. If you are a Christian as I am, I get comfort from reading the Bible, even if it's just one psalm to quiet my thoughts and refocus my anxious thinking. You can also read uplifting, motivational books.
Watch a comedy or a good movie you can lose yourself in.
I do hope my story encourages those who are suffering with panic attacks. You CAN get better, there are trained medical professionals who can help you. There are therapists to talk to and medication if needed.
You can get your life back, so reach out and don't ever give up hope!
Thank you for taking the time to read my story.
Please leave a comment and I will answer each and every one.
Resources:
Poem credit: Karen
Image credit: Alessandra (abcdlish)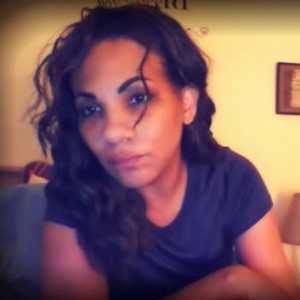 K. Maria enjoys reading, decorating and spending time with her family. You can follow her on Twitter at https://twitter.com/karen93089343.
You can view all of Karen's MHT guest posts by clicking here.