Written by Trish
I was considering going to a monastery.  Not for a visit but to stay.  I felt it was my only alternative to psychiatric medication and I didn't want to take the meds.  I told myself I was done with them during my last depression.

This time was different though.  The amount of sensory over-stimulation I was feeling was impairing my life greatly:
I couldn't use the Internet because it was at a time when everyone was putting flashy advertisements on their sites and they would cause me to go into an anxiety attack;
I couldn't read before bed because I would experience hallucinations once I turned out the lights;
I would get anxiety attacks from taking long drives because my eyes were trying to take in everything that was passing by;
Watching TV made me so uncomfortable and nauseous that I had to turn it off, especially with "reality" TV where they used a lot of handheld cameras;
Walking in the forest and trying to take in the view in front of me of all the trees and greenery would cause me to see double;
I thought we were going to have to get rid of our Siamese cat because every time he cried, the sound would be so piercing that I wanted to run away or kill him.
Places like stores and malls–lots of stuff in small spaces–were quite the experience.  I would walk in and suddenly my eyesight would become very acute.  Then my visual perception would shift and it was like everything within my visual range was reaching toward me.  As I was trying to adjust to the messages my sight was sending to my brain, I would suddenly become very aware of moving objects such as people, escalators, and carts, and they would distract me and I would lose mental focus.  All the while, my anxiety was increasing which heightened my senses even more and it would then sound like someone had turned up the music in the store.  It was all I could do to keep myself from grimacing and putting my fingers in my ears.  My sense of smell would also become very acute and the smells of baked goods mixed with perfume, or the smell of new clothes would cause my anxiety to increase further.  By this time I would spend what energy I had left to try and concentrate on what I was shopping for so I could get out of there.  Next,  I would notice that my vertigo and the sensation of me floating had increased and everything would appear to be gently spinning or moving as if masked by the heat radiating off a smoldering highway.  Then, if I was really over-stimulated, I would experience gruesome visions of my body on the floor of the store.  Suddenly I would become hyper-vigilant to every sensation going on in my body to measure it as a sign of sudden loss of consciousness.  Well in my world, every sensation is pretty much a sign of that!
I imagine that this experience must sound like a bad trip on LSD.
Ah to live in a world that is growing smaller because of our over-consumption of stuff.  And not just plain old stuff; stuff that's shiny and rings and beeps, blinks loads of data for us to ingest–any time, anywhere; messages of shoulds and have-to-haves and ideals; and allowing us to communicate at all times because we need to be connected to everyone and everything.
So I didn't leave the house often and I didn't do much.  It was then that I realized I had created that monastery in my own home.
But the question in the back of my mind during all this time was what was the over-stimulation doing to my body?  I knew that each time I felt over-stimulated and anxious (one is always there with the other), my nervous system was over-aroused and that meant other bodily functions were being compromised.  Now a constant worrier about the strength and reliability of my body, this terrified me.
Did I seriously want to live my life this way?  I decided that more than anything I wanted to be able to leave my house and interact with people one-on-one again.
I went on an anti-psychotic and slowly over a course of two years, I was able to increase my tolerance to computers and busy places for short periods of time.  Noises didn't bother me as much and I was better able to tolerate strong smells.  I was now able to expect which situations and when I would become over-stimulated and make the choice to engage in the situation or not.  However, the anti-psychotic had a high risk of causing diabetes and I had most of the side effects including the rare ones.  It was now impairing some of my bodily functions.
It was then that my psychiatrist and I decided it was time for me to come off the anti-psychotic.  It was not meant to be taken for long periods of time.  So that's what I did; over the course of 8 months I slowly reduced my dose (I am very sensitive to medication)  from 1.5mg to .25mg at which point I ran into trouble.  I began experiencing regular sensory over-stimulation again, hyper-vigilance to my bodily sensations always evaluating for signs of terminal illness, and gruesome visions of my death.
It wasn't all bad.  My body had come back on-line again and I was no longer experiencing the side effects from the drug.  Now, more in a position to be a compassionate observer, I noticed core fears that had been masked by the higher doses of the anti-psychotic.
So that brings me to today: I am terrified that the over-stimulation is slowly killing me and I am terrified of dying.  Though I cannot control how much stimuli my senses process, when I experience overload regularly I am not merely logging it mentally as data to be better informed, I am assessing it to determine if it will harm me or not.  I am in survival mode, as is my nervous system.
So I have gone back up a little on the dosage of my anti-psychotic and though I am much more limited during my day and in my outings, I am learning to live with the current circumstances.  It is about listening to my body when it starts to feel over-stimulated and taking myself out of that environment.  There are times when I won't be able to do that and that's okay.  For now I just make my outings short and sweet.
With as much patience and self-love as I can muster, I will begin to process the core fears related to my survival on all levels.  I will do this through therapy, inner-work, trying to stay open to my experience, and self-hypnosis, with the aim of strengthening my faith and trust that everything is as it should be.  I expect that I will always be highly sensitive to sensory over-stimulation, and my hope is over time I will become comfortable enough again to pursue my passions and my need for face-to-face interaction a few more hours per day.
What I do know for sure is that I still need to be on an anti-psychotic to interact with the world in any form.  For that, I am grateful for the meds.
What has been your experience with sensory over-stimulation?  I would really like to hear from others who have similar experiences.
Cartoon credit: Trish Hurtubise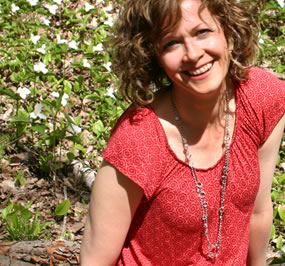 Hi. I'm Trish Hurtubise…the founder, curator and an editor for Mental Health Talk. I love serving those who are relegated to the shadows by society by giving them a platform to share their voice and be seen and heard… hence my passion for working with all the wonderful people who have shared their stories and wisdom on MHT.
You may view all posts by me here.
Much love to you.