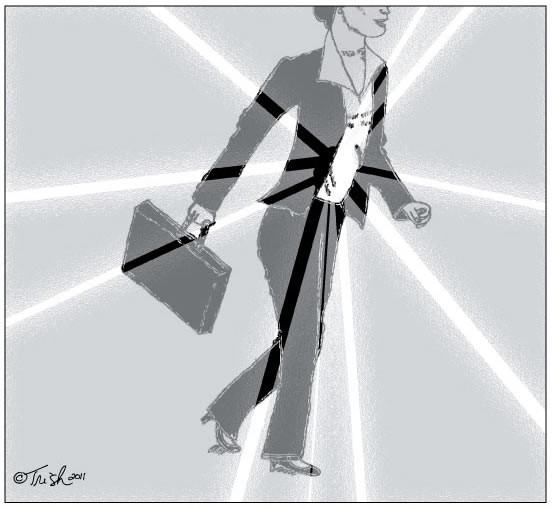 Written by Trish
I guess before you can answer that question, you probably want to know where I work, what do I do all day, how much I make, and how's the cafeteria food.

Well by a lot of people's standards, including my own, I can't work. Does that answer make you want to trade?
Today I was told by my psychiatrist that I probably won't be able to work (again). I put "again" in brackets because I am not sure if she said it or that is what I expected to hear.
This assessment upsets me a great deal.
To me it means I can't provide for myself if anything should happen to my husband. I will never know the comradely of working together for the same vision again. It means my sensory over-stimulation–the condition that impairs me–will never improve enough for me to dedicate 8 hours to a job, five days a week. It means the expectation I had that when I could work again I would be fixed was cruel.
I am a dependent and I feel like a burden.
So much of my identity has been tied up in what I do for a living.  Working at a job was something I always did well—the only thing I considered myself really good at.  Since my first job when I was 14 I have always received glowing reviews.  Starting a university co-op program really solidified that feeling of usefulness and my need for approval when I would struggle through school every 4 months to then go out to work for 4 months and excel, excel, excel.  I needed to be working; doing what I did best.
Since my first depression 10 years ago, I have started and stopped, negotiated and broke, jobs and contracts all because I felt I had to work to gain respect and to find myself again—that smart, quick-minded, resourceful woman that everyone admired for her ability to work in a male-dominated industry and rise up through the ranks of the corporate world.  Or so I thought that's why they admired me.  Then I would end up aggravating my mental state to the point of having to quit.  So I tried volunteering instead and the same thing happened. Each time I quit, I felt more and more unable to commit to anything.  My self-confidence waned along with my self-worth but I continued to always get back on track so I could work again (for a bit anyway). That was how much I invested in having something to do each day that made me feel I was a productive member of society; that I earned my keep and I was really good at it.
I suppose I have known for a while that I can't go back to a 9 to 5 office job.  I just had this story inside my head that I could work anyway if I really had too. I'm not that sick.
A fairytales' spell infusing me with superpowers while cloaking my limits.
So where do I go from here?
I grieve. I grieve for the identity I have coveted all these years of this professional career woman who has marketable skills that could be applied to any industry for at least the six-figure salary she made in her early thirties. Successful; capable; there when you needed her and always at the office. Able to handle the stress (well at least hide the part of her that was freaking out), always reliable and always committed. Financially independent to the point of not having to worry about money. Aggressive. Loyal. Reputable.
Who am I if I am not these things?
(Do you remember that sound the needle of your record player makes when you scratch it across a record playing? If you do, play that sound in your head…. NOW)
Wait a minute… that last question did not sound right. Let's play it again:
Why do I need a job to be these things?
I like that tune much better, though it doesn't mean that I am no longer going to grieve my identity of that professional career woman. I will. Then, when I am ready, I will move on.
I will first look at my value system for my self-worth. I can contribute my passion and my skills using all sorts of vehicles that don't require I punch the clock each day. This web site is one of them–I can do it in my own time when I able to give it my energy.
I can consider this: my ability to contribute and make a difference is not based on the amount of hours I log, the organization I belong to, or the money I make doing it. It is based on action and passion and I've got loads of both… most of the time.
I don't need a job to connect with the world or a business to serve people what I have to offer.
(Okay I am trying this new perspective on-for-size and so far it is not choking my sensibility or riding my realism.)
The second thing I am going to look at is my definition of a job.  My current vision resonates with that of a lot of Baby Boomers and a good portion of Gen X'ers.  I think with today's technology my new definition can be a lot more flexible in the hours I work and when and where I work them.
If I do work again, I will be self-employed, doing what I love, with my ideal customers who embrace my limits and consider them part of the quality of my service.
(Yeah… I like that… a bonus of being unemployable by standard measures is it gives me a box to break out from in order to write an exceptional job description!)
I would love to hear from you. Are you currently unable to work due to mental illness? How do you feel about it?
Image credit: Trish Hurtubise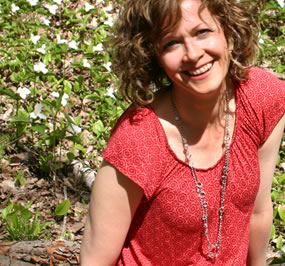 Hi. I'm Trish Hurtubise…the founder, curator and an editor for Mental Health Talk. I love serving those who are relegated to the shadows by society by giving them a platform to share their voice and be seen and heard… hence my passion for working with all the wonderful people who have shared their stories and wisdom on MHT.
You may view all posts by me here.
Much love to you.