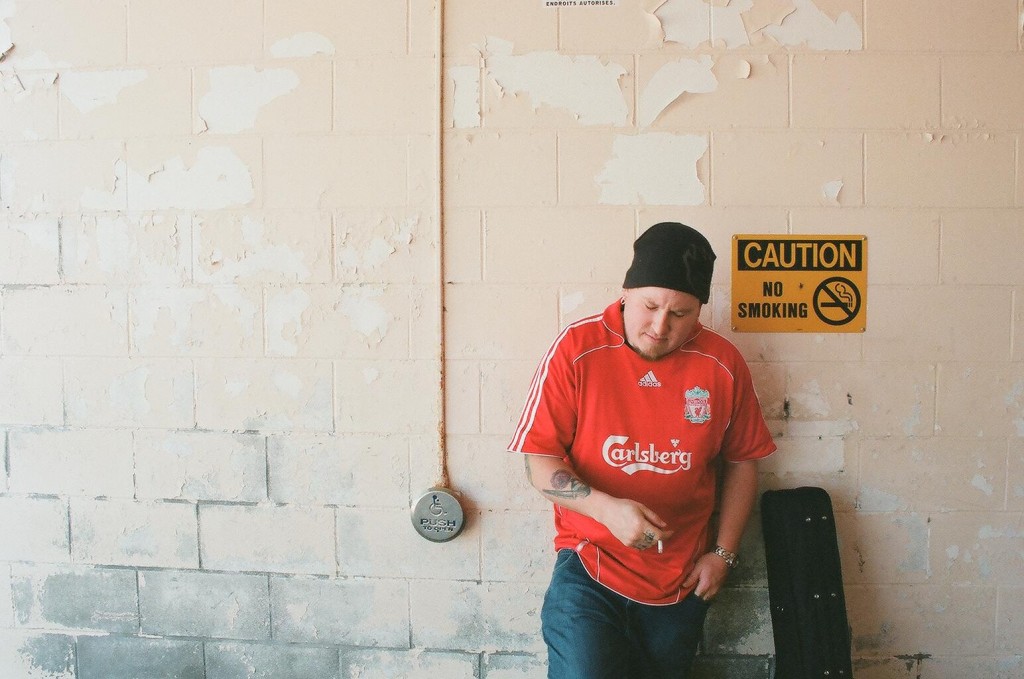 Written by Alec Morrison
Hi there folks, I'm Alec Morrison, a poet and musician and quasi-artist, also trying to become a blacksmith. I have Bi-polar Schizo-affective disorder, and that makes work hard for me, my main focus is avoiding another psychotic break. So far so good, it's been six years this past March. I marked the occasion by recording a solo acoustic album in the now vacant North Bay Psychiatric Facility. Here's a link to the video: Alec's Trip: Already Been Where I Was Goin'.
Anyway, I'd like to share this poem with all of you. It's called "With All". Have a nice day.

With All:
I am too scared to die,
Why? I ask
As I tip my flask
And look at the day.
Too dark and grey
To stay
In bliss
I miss the kiss
Of the life I once led
And the wise words my father said,
"Don't talk unless to improve the silence"
An interior violence
Overwhelmed and took
Away the joy, as the reality shook
The thoughts of this young boy
But now is the time
To free ourselves from the daily grind
The experiences of mine
Will travel with me through the atmosphere
Or hit the ground with a drunken tear.
I still see beauty
Though the pale heart
Just waiting to get to the starting
Gate
Of a day where I can relate
To the tasks of my fate
It's not too late
To break free
Of the need
For constant comfort, cauterizing the wound
As the day looms
In and out
Of the quiet and the shout
A seasonal cycle
Awakening the insides
After the cold death
Of the lily's last breath
A dormant maze
Mystified by haze
And strange ways
Will look at every wall
Before the bottomless fall
A dream had
Maybe bad,
But the knee jerk reaction for this young lad
Brings me out of the conscious coma
And the aroma
Of the lily's fruit
Fresh and full of grace
And the expression on my face
Starts to curve at the cheek
The meek and sleek and slender line
Forms and I feel good
At least a taste
Of a smile I will never waste
And turn plastic to be polite
Instead I'll ignite
The fight to stay real
And feel like I belong
I'll listen to the song
As long as I can
Even though I ran
I'll stay calm
And help those dear
For I fear
Of the return to the dismal downpour
Inevitable as it may be
I see necessity
In coping skills
Without an absence of thrills
For some, you live twice
In the land of man and mice
Burgers and rice
The mean, the nice
The lazy, the louts
Full of doubts
As I once was
And point my finger and laugh
Because they won't last
With the anger they feel
Jail or death awaits
At the wrong choice's gates
But healing comes to all
The instant cure is drugs and alcohol
But the chance is small
You'll get long relief
It's usually brief
Then to sponsor, you become a thief
Steal your way to health
Ever widening the gap
Caught in the trap
To carry is to own
And it's possible to hone in on
Your pain – transform it
And you'll find you'll gain
And prosper off the land,
Destiny is in your hand
Grip it and mold
The future for the bold
Survive the cold of winter
And spring will come
The final answer of the gun
As the last choice for temporary weather
Persistence is better
As you become strong
And the lake reaches new depths
You swim among
The fish
As you wish
You grew sooner
Away from the clout
Bury deep the root
Climb through the dirt
Of your hurt
And reach the sky
Up there so high
as you say goodbye,
For now
Cause no matter how
You live
There'll be actions to forgive
And pain to bear
Pasts to wear
On your skin
The lessons you learn will help you win
And survive
The five
Senses
Past tenses
Future fences
That border all our souls
So for now I feel fine
When I dine
Sip good wine
Enjoy what life has to offer
And I don't bother
With useless thinking
Or heavy drinking
Unless to help share happiness
With the friends
To which I made amends
For the trips I've been on
Coming to grips with that world's wake
As I take
Steps
To correct
The hurt I caused
When I paused
From reality
And lived in dreams
Exploded at the seams
Of my being
I carry it with me now
But it's a memory
A memento, so
Go now
And continue
With your heart's drive
To stay alive
Cause I'm still scared to die
Why?
I think it's the end of what I know
I could stay where it snows
Or where the whisky flows
Where I could go to all the punk shows I want
But I'll wait
Till fate
Takes me
From serenity
I'll share this plane
Of existence
With all.
Alec Morrison 2008
Photo credit: "No Smoking" — photo of Alec Morrison by Dan Beeson
Alec Morrison is a Poet, Musician, and Artist from Northern Ontario, Canada. He has studied Blacksmithing and Sculpture at Haliburton School of the Arts, and has taught poetry workshops in elementary schools and colleges. His music is his main focus however, playing in bands and performing since the age of thirteen, Alec is now pursuing a solo career. His album titled "Already Been Where I was Goin…" was recorded in a vacant psychiatric hospital where he was once a patient. At the age of twenty he was diagnosed with Bi-polar schitzoaffective disorder, he has been psychosis free since 2005.

You can view all MHT guest posts by/related to Alec here.