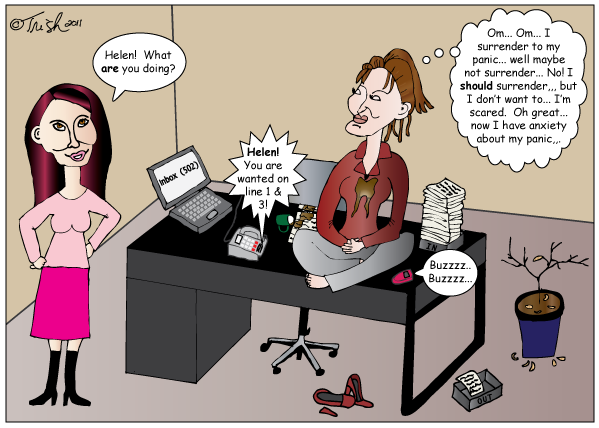 Written by Trish
Within a blink of an eye, I am in a state of panic. I am acutely aware of every sensation igniting in my body and every thought growing with the intention of consuming my mind.

I am trying to suffocate the jittery flames in my stomach by pulling it tight. I feel the gnawing burn eroding my solar plexus; the beating of my heart that suddenly spasms into strong thumps, to then resume its rapid pace; and the sensation that my feet are no longer on the ground as the room slowly begins to swirl.
Lights become blinding. Sounds becoming deafening. I breathe in short sputters; with each shallow inhale I taste the smell of each body in the room as it drifts into my tummy in a wave of nausea. Every muscle is tense, trying to hold back the onslaught of stimuli assaulting my senses and breaking through the weak defenses in my mind.
My mind is shouting at me: don't I recognize this feeling? I'm in trouble. I need to get out of here NOW if I want to survive.
At lightning speed my mind bursts through every scenario that would take me far away from this threatening situation. At the same time I am telling myself to get a grip; I am stronger than this; I will embarrass myself if I just get up and run; I should be able to handle this by now; why aren't the meds kicking in?
My survival instinct senses my resistance and I suddenly become hyper-vigilant to my body's message of danger. At this point the buzzing in my ears from my blood pressure dropping is a sure sign that this is not going to end well. I have to get away from this terror that has overtaken me. In my desperation I decide to get out.
I lunge toward the door and I make it out of the room without falling. Though their faces are a blur, I can feel their eyes staring at my back. Will one of them follow me? Try to force me back into the room with their talk of hurt and pain?
With laser-like focus on my point of safety, I stagger out of the building to my car. Trembling, I get in and grip the steering wheel.
I think to myself: "Man, group therapy is a bitch!"
In my defense for swearing Mom, I did say "excuse me" before I left.
This is the play-by-play of an anxiety attack I had late last summer. It was a real turning point because I was at a point in my recovery where I could observe everything I was going through during the attack and recall it later.
I took the opportunity to dissect my feelings, thoughts, and actions before, during, and after the attack.
What I discover was a philosophy on anxiety and a practice to apply to my attacks.
This is what I really want to share with you today.
How an anxiety or panic attack starts
The mind is everything. What I think I become. ~ Buddha
You think of your anxiety as attached to certain triggers; a social situation, spiders, a small space, visiting the dentist. Again and again these situations set your anxiety off into some form of an attack. You learn to avoid them.
It is valuable to consider the thoughts about the feelings you have associated with these triggers. Perhaps you were once thoroughly embarrassed in a group setting and you never want to experience that feeling again. Every time you visit the dentist you experience pain and you hate pain, especially when you know it's coming.
The thoughts of resistance to our unwanted feelings create the anxiety.
Like the calm before the storm, we spend our quiet time thinking about every situation and nuance that could go wrong, causing us to feel our past unwanted feelings. When we least expect it, these thoughts become real and we get anxious.
How does this happen?
Since we have anticipated every awful outcome that will bring on our unwanted feelings, we are subconsciously on guard for a situation that might activate them. When we find one (and we always do), our memory triggers the associated thoughts and our unwanted feeling(s).
Bingo!
In a few short seconds our thoughts curse our feeling(s), in our desperation to stop it we resist, and our fear intensifies because our efforts are futile.
We experience an attack.
What to do during an attack; a Zen-like practice
Chaos is inherent in all compounded things. Strive on with diligence.~ Buddha
You are suddenly hit by a wave of primal fear and there is no wild boar about to leap the short distance between you with the intent of taking off your arm.
You are having an attack.
What do you do to stay centred?
Note: if you are in a situation where a wild boar is about to attack, forget about being centred…. RUN! Or is it don't run? I don't know–just don't put yourself in a situation where there are wild boars!
Step 1: Give yourself permission to feel the way you do. Recognize you are feeling anxious and it is perfectly normal. Tell yourself: "It's okay to feel really anxious."
Step 2: Concentrate on your body. What sensations are rising? Stay with the sensations. This will immediately put you in the present moment. They may increase in intensity which will make you feel more anxious but stay with them anyway. This is hard work because you will want to judge these sensations and resist them. If you find yourself judging, redirect your focus to your sensations.
Step 3: Relax into your sensations. Yield to what you are feeling. As you relax, you are sending a signal to your mind and body that everything is okay. Stay focused on relaxing into your sensations and letting them be. Again, this is where you want to do your best not to judge and resist.
Step 4: By this point, your mind has gone haywire with the worst possible scenarios, fueling your need to escape immediately. Because you are well into your attack, your mind will now be focused on the most predominant worst case scenario which you will easily be able to pick out. Observe what this scenario is.
While staying relaxed, you want to question its absolute viability from all angles. You ask yourself: "Is it absolutely true that I am having a heart attack (worst case scenario); am I going to fall dead in the middle of this grocery checkout lineup with my skirt pulled up and my rattiest underwear exposed (angle)?"
(I am not trying to be amusing here. During an attack, our mind comes up with the most outrageous notions which we immediately believe to be true.)
Since you do not know with absolute certainty that you are having a heart attack, and you cannot know what's going to happen, your answer is "No! It is absolutely not true."
Step 5: Continue questioning every angle until your anxiety is reduced by your growing confidence that the worst case scenario is not going to happen. Remember to try and keep your body relaxed.
It will take time, repetition, patience and self-compassion to master this practice.
That's okay. You have all the tools you need within you to be able to do this.
Like a short-distance runner practicing for the intensity of a marathon, you can build your endurance by utilizing these steps when you have general anxiety. Then when an attack hits, you will be able to draw from memory (both mind and body) what to do.
I know you can do this. I am rooting for you!
When you can stay centred amidst the chaos of your mind, body and environment—even for a few seconds–you feel more in control and experience just being. It is during this state that you are able to identify what is best for you no matter what life throws you.
Doesn't that just make you want to go out and have another attack?
Probably not.
Try this practice and see what happens. Let me know how it goes!
The Zen of anxiety part II
In my next post (July 3rd), I will talk about how you can begin to recognize the connection between your thoughts and the feelings you fear, and how to face them.
I would love to hear from you about your experience with anxiety or panic attacks. Please let me know what you have done to feel more centred in the comments below?
[Added July 13] Read The Zen of Anxiety Part II; Gently Facing Your Fears here.
Cartoon credit: Trish Hurtubise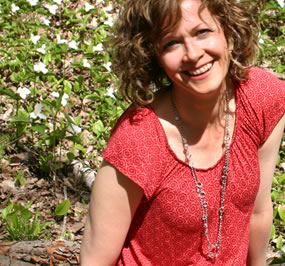 Hi. I'm Trish Hurtubise…the founder, curator and an editor for Mental Health Talk. I love serving those who are relegated to the shadows by society by giving them a platform to share their voice and be seen and heard… hence my passion for working with all the wonderful people who have shared their stories and wisdom on MHT.
You may view all posts by me here.
Much love to you.