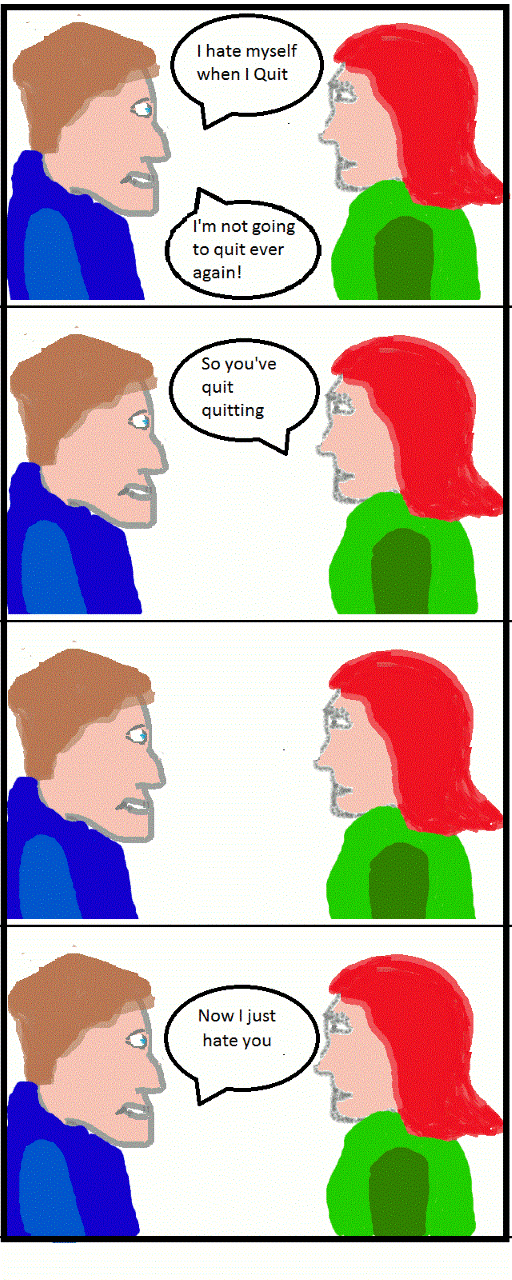 Written by David Templin
My job was hurting me. No, I wasn't a professional wrestler or an asbestos miner, but nonetheless, I was being hurt. For the longest time I didn't pay attention.
I worked with people I liked, in a field that I enjoyed. Yet it was hurting me.
Part of my problem is that I am a perfectionist. I get down on myself when I do not perform up to the highest standards. As I progressed through my career, I took on more challenges and responsibilities and I was able to build up my confidence after each new role. During that time I found my co-workers and superiors and employees very supportive.
Eventually I was in a situation where I was put in charge of 10 programmers. I found that I was no longer the expert in anything we did. I worked for a client that was far more expert in his field than me or my team. Although we were providing very competent help in a professional manner, nothing was good enough for him. He was not only unappreciative of our work, he was verbally abusive. He was a bully, pure and simple.
My standard response to verbal bullying is with humour. A little mixture of sarcasm and self depreciating humour usually helps diffuse a situation and can interject some humanity into the situation. Unfortunately some people do not have much a sense of humour, and this client is one of those people.

That had a big impact on my self esteem. No matter what I did or said seem to make the matter worse. My employees did what they could to provide support over and above the call of duty. I tried to protect them as best I could from what I thought were unfounded complaints, but I did not feel I was getting any support for my superiors, and I was starting to feel physically sick.
The mornings were the worst for me. I had a hard time waking up. I felt tight in my stomach and I stopped eating breakfast because of it. I relied on coffee at work to get my energy up to get through the day. When I woke in the morning I did not feel rested.
After over a year of helping the client through some difficult times, I still did not receive any respect from him. My bosses acknowledged he was difficult, but when issues were escalated above my head, my bosses always took the client's side due to their commitment to "customer service".
Finally, at a meeting where the client laid into a colleague of mine, I started to tense up. My bosses did nothing to support him. I was in no position to provide support either since it was not a subject that I had direct knowledge of. I felt helpless. It would have been better if the client had been attacking me. At least I was used to it. But watching someone else go through it was too much for me. I broke out in a cold sweat and found it hard to breath. I could feel my heart pumping. I waited for a bit of a break in the conversation and excused myself.
The next day I asked for a change in jobs. To their credit, the bosses acted quickly. I was given new duties and a new client who liked what I did for them. But the damage was done.
My confidence in myself was shaken. The anxiety persisted.
Although the new client and my new immediate boss were far more appreciative of my work, they had little influence over my appraisal that year.
It wasn't just the official appraisal of the bosses and my bosses' bosses that was painful. It was my own appraisal of myself.
I started to see an analyst who helped a lot. The analyst helped me understand how I feel responsible for situations over which I have no control. She tried to show me how I was not completely responsible for the perceptions of poor performance in my team and myself. That maybe, just maybe, the client and my bosses were also at fault.
On the surface, this just seemed to be obvious. But there are many levels of fault one has to come to grips with.
I was taught as a child, "Sticks and stones may break my bones, but names will never hurt me." Even as a child I understood the wisdom of the statement and I took it to heart. But being a perfectionist, I have exaggerated the meaning of this simple axiom. So, if I am hurt by nasty names, or other mean words, then it is my fault.
I beat myself up for being vulnerable, which ironically tended to make me more vulnerable.
As a child I was raised in a highly moral and religious household. I was taught to love my neighbours as myself. This is the golden rule which comes in many flavours. Judge others as you would have them judge you. Treat others as thyself.
As a perfectionist, I am afraid I have warped the meaning of this simple rule. So when it comes to judging people, I tend not to judge them as myself, because that is far too harsh. I think people deserve some compassion from me. I tend to give them a break
Unfortunately, I paid a price for my interpretation of the golden rule.
I did not hold my client and my bosses responsible for the things that triggered my anxiety. I held myself responsible for reactions to their behaviour. That in turn contributed to my anxiety.
I ended up forming a deep resentment for the individuals at work who had a direct influence on how I was judged. I could not address that resentment other than beating myself up for even feeling resentful.
I felt a deep need to forgive these people, yet I could not, because they were entirely unrepentant. They thought they were doing a great job. Hey, they even seemed to agree with me that it was all my fault.
So what did I do about it?
The first step, to switch jobs, helped a lot. It removed me from the immediate situation. I had no more anxiety attacks, but the anxiety was ever present. Although I had a new immediate boss who was very supportive, her boss and her boss's boss were still the same. I knew that I had lost their respect and I could not forgive them for it.
It ran deeper than that. I watched the whole process of annual evaluations and bonus payouts. Like many other corporations they established a predefined threshold of what percentage of employees would receive high, medium or low bonuses. 15 % would receive a high bonus and 15% would receive a low bonus.
As a manager, I had to make that determination about the employees that reported to me. Very often my determinations were superseded by my superiors based on their own criteria. I had to inform a number of my good employees that they had been judged to be in the lowest 15% of performers. I hated the process. Now that I had felt the pain of that judgement on myself, which I felt was arbitrary and unnecessary; I could not feel I could participate in the exercise anymore with a good conscience. I not only resented a few individuals. I resented the organization that would have such hurtful policies.
So, I decided to take an early retirement. It was a tough decision to make. On a financial level, I have given up a significant portion of my income. I am very fortunate however that I do have a fair amount of savings, and I knew it would not have an immediate impact on my lifestyle outside of work.
One of the hardest aspects of quitting was that it seemed like I was admitting defeat. But in the end I knew if I did not take action, my health would suffer.
It has been about a year. Almost immediately, the level of anxiety dissipated. I feel much better. I am not sure what exactly caused that. I believe it was two main things. First, since I was no longer surrounded by reminders of the pain, I felt better. Secondly, it was me that took the action. I could not change the environment, but I had taken an action that I had control over. I had quit.
There is no question the primary triggers of my anxiety were work related. When I left work, the triggers were gone and the relief was almost immediate.
Yet, I still feel wounded.
I have not yet been able to completely forgive the one client and two of my bosses who I think acted poorly. I have not yet completely forgiven myself for being hurt by them.
One big surprise revelation to me is this: I do not have to forgive them before I forgive myself. In fact, I am pretty sure now, that I have to forgive myself first. It is alright to feel resentment. I am human after all. I am certain I will eventually be able to forgive them for their faults as well. It is far more important for me to forgive myself.
I am now thinking about going back into the work force. I am not sure what I will be looking for. I need to prepare myself for what I will find. I am somewhat afraid that I will feel the anxiety again.
So, I am re-evaluating my value system. If similar situations arise, how should I react?
Now I realize that sticks and stones may break my bones and names do hurt me. I will hold the people who call me names accountable, just as I would if they threw stones at me. I will still continue to respond with humour, but I will also stand up to verbal bullying and unfounded judgements with a more direct approach when humour has no effect. I will defend myself against false accusation as I hard as I would defend a friend falsely accused.
From now on I will try to love my neighbour as myself and try very hard to judge myself as charitably as I judge others. I will try to forgive myself of my trespasses first, in order to forgive those who trespass against me.
Armed with that new outlook, I will be able go forward without fear of failure.
Cartoon credit: David Templin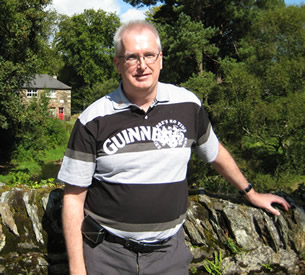 David Templin is a retired systems analyst from Ottawa Canada who enjoys eating, sleeping and other even less demanding activities.
He keeps busy by volunteering to help seniors and helps organize an annual dinner to feed well over a thousand less fortunate people on Christmas Eve.
His greatest joy in life is when he successfully makes people smile and laugh.