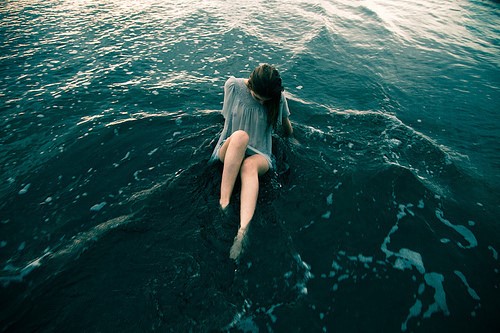 Written by Sara
"I need you to help me kill myself".
The room is silent as my parents stare across the room at me. They're on one couch, I'm on the other. If they're scared, they don't show it.
"I can't do it myself. It won't work".
I wait as they mull this over. I'm not aware of it at the time, but it's hard to think of the right thing to say when your daughter wants you to euthanize her.
Dad looks at me, "No".
"You're selfish!" I snarl. "I have to live this life, not you. Why should I suffer? Why should you be allowed to keep me alive simply because you want me to be? Just because you'll be a bit sad for a while?"
Silence.

"You'll be upset at first, but as time goes on, you'll come to realise this was the best decision for everyone". At the time, I truly believe this.
"We will never get over it". Someone says. Mum or Dad. I don't know. My ability to concentrate is hazy.
This is rock bottom; asking the people who created me to help me die because I am too incompetent to do it myself.
To me, the best possible solution for everybody was that I was dead. Plain and simple. Black and white. I did not see the inbetween, the possibilities of getting better, of being better, I forgot what it felt like to feel good, to be alive. I could not do anything to lift myself out of it.
The only thing I thought would work was death because then I would not be in it anymore and it was unbearable.
"When you are 40, if you have felt this way continuously, I will help you" Dad whispers. I believe him. There is an endpoint. I only have to wait for twenty years. My mind is so disordered that this seems like a reasonable conclusion.
It's an odd feeling when your mind sits at the bottom of a lake. Lying on those cold and slippery rocks feels like death itself. But slowly, with love from my parents, and drugs and time I was pulled away from death.
It's hard to move under the pressure of the water. Especially when you are so far down that you don't even know where you are. But my parents never stopped. They kept on pulling me up, no matter how heavy I was. No matter how grim it seemed. They were always there, with love and support and encouragement.
Once I could see the surface, I started to push myself. Slowly and painfully at first, and then the closer I got, the harder I worked. I'm not eloquent enough to describe how it felt when my head finally broke free from the water; how relieved I was to reach the surface, how good it felt to breath in air, and light and life again.
But rock bottom isn't where my story begins, and breaking the surface isn't where it ends.
It's hard to say with any sort of certainty when my depressions started. Let's say age 12, because it's easy, and my memories are dark around the edges before that point.
I have always tended to brush my experiences off as if they were just grains of sand, irritating but meaningless. Easily removed, and easily forgotten. As a child, I rarely made a fuss about how awful I felt, how much I wanted to die. It was a secret. My secret and besides, I'd never known any different. It wasn't as if I was happy at one point, and miserable the next. There was no clear beginning to the downward spiral. It seemed to me as if it had always been there.
I didn't think I was special, or different, or weird (although the kids at school thought I was). I just thought I was a normal child, who did normal things, and I saw nothing particularly odd about my moods and my behaviours. Thinking about suicide was just something I did. It was a part of my life, and I didn't share those thoughts with others. I kept mostly everything to myself. This is the first reason for misdiagnosis.
If I had been able to keep these moods contained within myself, without them overflowing into my life, into the view of others, then no one would have known any different. But when you are unwell, suffering from an illness, it grows and it extends and what were unpleasant and painful feelings suddenly became overtly hostile, aggressive and irrational behaviour. My father (a clinical psychologist), believed I had behavioural problems. He blamed my personality. It was me, not an illness. It's not serious, she's just a ghastly person. Perhaps he would argue this were not true, but that is how it always looked to me; that is how it still looks. This is the second reason for misdiagnosis.
The specifics are irrelevant. The pattern began and once it had, it repeated itself, over, and over again: I was depressed, I was hypomanic/mixed/manic. I was in school, I was out of school. I had friends, I had no friends. I was anxious, I wasn't anxious. I abused alcohol and drugs. I didn't touch them. I was sexual, I was ashamed.
Some people look back on happy childhoods "oh to be a kid again". But for me, to be 11 is to be anxious, scared, afraid. To be 13 is to be arrested for drunken disorderly behaviour; a wild child fuelled by drugs, alcohol and sex. To be 14 is to be overcome with guilt because I cannot smile on my birthday, my heart and my mind too heavy with loneliness, with pain. To be 16 again is to be bedridden by sadness, misdiagnosed, suicidal. Hopeless. These are not the memories of a happy childhood. These are memories, tedious to recall, lived once and trying to be forgotten. These are memories that tug at my consciousness. They want to be known. I do not want to know them.
But it wasn't all bad. My Mum said this to me recently, and she was right. It wasn't. But to live so much of your life depressed, to have your life shaped by dark moods and darker thoughts, they cloud my vision and I struggle to recall the good amongst the bad. There are bright, happy memories and they stand out like diamonds in the dirt. But like diamonds, they are rare. I catch their glint when my mood is good enough that the sky is clear and the sun shines through. But with the clouds of depression, their light fades and these diamond memories disappear.
The journals from my childhood are filled with lists of qualities I wanted to possess. I wrote a lot about the person I wanted to be. The goals I wanted to reach; my dreams. I wrote a lot about turning over a new leaf. The voice of the real me, trying to break out and break through and come into being. With changing moods, none of those plans ever lasted. They were made and never followed through, written and forgotten. Depression made me tired; my will weak. Hypomanic and I lost my focus. Mixed moods and I became a clenched fist, ready to pound the flesh of anyone who crossed me.
Sometimes I wish I could go back, make changes, try harder. But mostly I am grateful. I am grateful for all of those years of confusion, sadness, and pain. I am grateful for never reaching my full potential. I am grateful because I never really had a "me" to lose. I never knew who I truly was, and when my diagnosis was given to me, my therapist at the time helped me to see that since I never really was someone, I could now choose the person I wanted to be. I am grateful because now I can be the real me. I can follow through on my plans. I can reach my full potential.
I am grateful because I am free.
When I was 20 years old, I asked my parents to help me die. I was convinced this was the best course of action, the best decision, for everyone. I believed I would always feel that way. I knew I would. I knew it would never end; there was no hope, no chance, no way out – except by death.
I was wrong.
Sara hasn't continuously felt suicide is her only option. In the past four years, Sara has committed herself to her recovery and she has developed a strong will to live a long, meaningful life. Currently, Sara is completing a Masters Degree in Psychology with the aim of becoming a Clinical Psychologist.