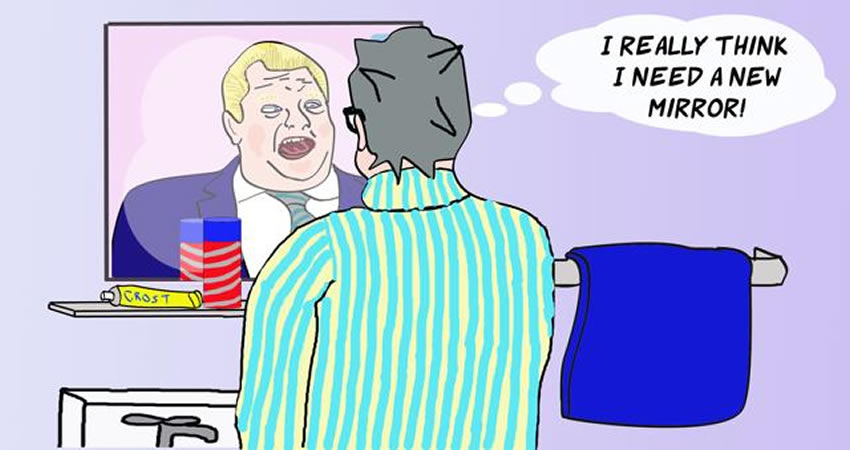 Written by: David Templin
I have to admit I have experienced some guilty pleasure following the escapades of Canada's crack-smoking, not-so-wise-cracking Mayor, Rob Ford. It has been like watching a Jerry Lewis slapstick movie, you never know what mess the rascal will get into next!
So imagine my surprise the other day, when I was looking into in my metaphorical mirror of self reflection and I saw Rob Ford's infamous rosy face staring right back at me!
I am not a mayor of a large metropolis, I do not make an ass of myself in public on a regular basis, and if I did, my picture wouldn't get displayed in every newspaper and comedy show around the world. So where is the resemblance?

As I watched and read each new bit about Rob Ford, I could not help but wonder, "why can't he see he needs help?" It is a puzzling question, but I think I am starting to understand.
It is almost 4 years now since I took early retirement from my job as a project manager. I had been suffering from work related anxiety and I needed a break. I left my job and sure enough the anxiety lifted almost immediately. My plan was to take some time off to relax, reevaluate what I wanted to do, and then maybe at some point get a job somewhere where I could enjoy work again.
In the meantime, I have been surviving quite well on my savings and a small pension and keeping busy doing a number of little projects. One of them has been helping Trish with this blog. I have really enjoyed it. It has been fun and it has made me see mental health issues in a new light.
Lately Trish and I have been corresponding about another project. Using cartoons and humour, we would like to shed some light on the stigma attached to mental health issues. If we could attack the stigma, then perhaps we can do something to help reduce the pain and fear surrounding psychological ailments.
I know the stigma is everywhere, but where specifically will I find it? I could not help but think of Rob Ford. I believe the idea that he might have an addiction or any other psychological issue is an anathema to him, something he just cannot accept. Now I can't read his mind, but his outward actions seem to suggest it fairly strongly. Isn't he in a constant state of denial? He makes mistakes, very publicly, but he says he has it under control. He can't seem to face the fact that he has a problem that he cannot solve on his own. I think the stigma lives very strong in this one! There must be a cartoon or two in that!
And that is when something unexpected hit me. I started thinking of my own situation. Four years out of work, was not my original plan. I looked myself in the mirror and I saw Rob Ford! Maybe I have some unresolved psychological problems! And, I thought I had everything under control. The notion that after 4 years I still had an unhealed wound from my days at work didn't fit with my self-image. How could I be so weak? Indeed the stigma lives very strong in me! Clearly, left to my own devices, I had not properly addressed the effects of my anxiety. It was easier to ignore it and pretend it had no lasting effect. It was as if I was taking a selfie, purposely choosing a profile that hides what I consider an ugly scar, from myself.
I needed to ask for help, but I was afraid. It was not so much what others would think of me. It is my own perception that was the problem. This was something new to me.
It occurs to me that my mental illness stigma is not simply a social thing. It runs deeper than that. I might not be alone with this problem. Is it possible that as soon as humanity was capable of self-awareness, it also was endowed with the exquisite ability of self-delusion? We seem to have the ability to form a self-image and stick with it despite all the evidence that it may just need a make-over. I think, sometimes we need help from outside to help us see ourselves more objectively.
I have a number of advantages over Mr. Rob Ford. When I enter a public place, I don't see a hundred cell phones come out in anticipation of some misbehavior. My self image, carefully crafted over my entire life hasn't been molded and simplified by handlers helping me get elected. If that image receives any criticism, I don't have followers and advisors telling me that it is politically motivated.
Indeed, I have been blessed with family and friends who are helpful and supportive, who are not looking for any political payback. I have had the great privilege to be involved with this blog. The contributors to this blog, all have very different stories, but they have all had to face stigmas, created both internally and externally and for the most part have come out ahead.
So, if the stigma is strong in me, I also am in a better position than Rob Ford to see it.
So, I have decided to seek professional help. I haven't yet started the sessions, but I feel lighter already! Thank-you Rob Ford for helping me see myself more clearly, scars and all, and prompting me to ask for help!
I am interested in what you the readers think. Do you think the stigmas associated with mental illness are primarily social or come from deep within ourselves? Who knows, it may inspire a cartoon!
Cartoon by: David Templin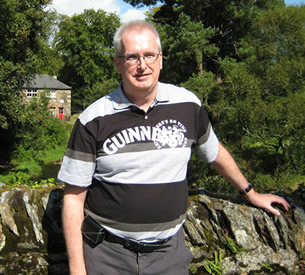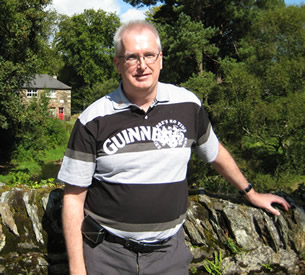 David Templin is a retired systems analyst from Ottawa Canada who enjoys eating, sleeping and other even less demanding activities.
He keeps busy by volunteering to help seniors and helps organize an annual dinner to feed well over a thousand less fortunate people on Christmas Eve.
His greatest joy in life is when he successfully makes people smile and laugh.