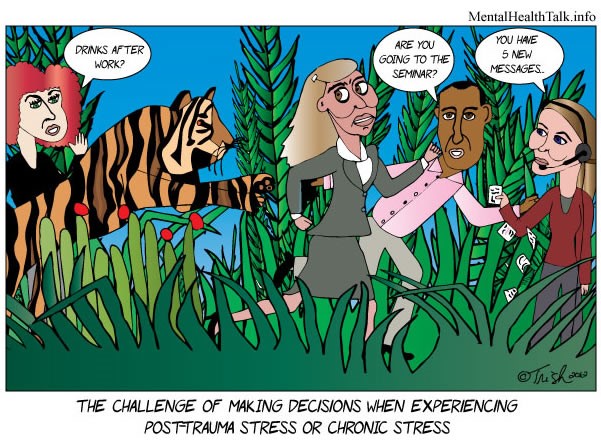 Written by Trish
Imagine…
You are walking along in the wild jungle and what steps into your path?
A tiger looking like you just stole her young.
Your nervous system goes into high alert and you have two choices: fight or flight.
I'm not talking about the type of fighting where you recall every lethal move Bruce Lee performed and get into position. Or the type of flight whereby you remember the running strategy designed to keep a marathoner steady as she paces her distance in the 100 degree heat and use that to your advantage.
No, no. Even if you could think of wanting to think of these tactics, your brain would come back again with fight (the kicking, screaming, biting, hair-pulling kind) or flight (run like hell).
Then imagine your are running like hell with your body and brain completely focused on survival, the mama tiger on your heels, and your boss jumps out from behind the tall twisted grass to ask you about the numbers for the weekly status meeting.
Then your babysitter is running beside you (where did she come from?) asking what she's supposed to feed little Johnny when all you have in the house is dog food.
Back to the real world… how come it feels the same?
Experiencing post-trauma stress, I sometimes wish the person asking me the question could see that imaginary tiger chasing me. It would make it a lot easier to explain why I have a strained look on my face, trying desperately to process information and come up with an answer.
So how do I achieve mental clarity when I am in a state of high alert such that I can assuredly answer questions?
I can't. Our bodies and brains aren't built that way.
Now before you throw up your hands and say "I thought this post was titled How to Gain Mental Clarity…", give me a second:
If I feel the slightest agitation when being asked something (you know what I am talking about if you get highly anxious or stressed a lot), my default answer is "Let me get back to you on that." The agitation is a warning sign I am not able to provide an answer with confidence.
I write the question down (always handy to carry a notebook with you).
I then come back to the question when my nervous system is no longer on high alert. In my case, this is after a short period of relaxation, deep breathing, EFT, or hiding in the bathroom.
I follow up with the questioner.
Yes, the questioner had to wait. But which would you prefer: stumbling through a half-ass answer you later find yourself reneging on OR delivering a complete, authentic answer you feel comfortable with?
What do you think?
I would love to hear about your experiences in the comments below: how do you handle communication with others when your mind is fuzzy from stress hormones overload?
Note: the idea for this post was inspired by a teleseminar by Nick Ornter of http://thetappingsolution.com/
Cartoon credit: Trish Hurtubise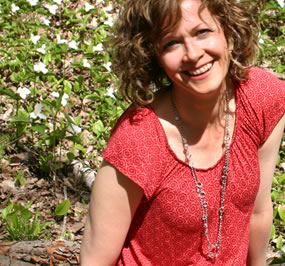 Hi. I'm Trish Hurtubise…the founder, curator and an editor for Mental Health Talk. I love serving those who are relegated to the shadows by society by giving them a platform to share their voice and be seen and heard… hence my passion for working with all the wonderful people who have shared their stories and wisdom on MHT.
You may view all posts by me here.
Much love to you.