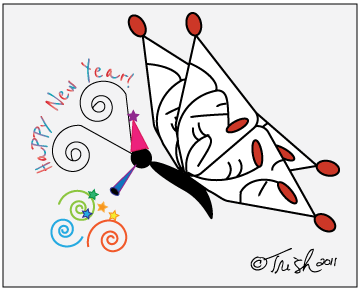 Happy New Year!
Let's rap a little about Mental Health Talk in 2011 and get down-and-dirty with what 2012 is going to look like… and I am inviting you to give your input along the way!

Top 10 Stories of 2011
Many of you visited the following posts in 2011 (order is calculated by the number of unique visitors).  If you haven't had the chance to check some of these out, please give them a read.
My vision for 2012…
2011 was our first year, and for me, it was a great year with Mental Health Talk:
I found my tribe;
I made new friends;
Received enormous love and support from old friends–one friend tirelessly tweeted and promoted the blog and the Matt Watts interview to people who I never dreamed would land here;
Did my first live presentation in 5 years to pitch the blog (and I did not faint!)
And ruffled a few feathers along the way.
Now on to what I envision for 2012:
Re-branding of the web site.  Nothing too drastic, I promise.  There is nothing more frustrating then to visit a web site where you are used to where everything is and then have it all changed!
I want to add a little bit more colour, rearrange the layout a bit, change-up the content, make it less and less about me, and…
enhance the logo to include butterflies (like the one in the image above–minus the party hat of course!)
When I was thinking how I wanted to introduce the blog via video, I had a vision of butterflies done in tribal art.  I thought: butterflies?  Aren't they kinda girlie?
It wasn't until after my vision that I stumbled upon the symbolism:
Butterflies often represent:

rebirth
renewal
perseverance
rejuvenation
the soul

Tribal often represent:

a person's identification with a cultural heritage, belief, or practice.
an allegiance to a specific social group or culture.

Celtic cultures consider butterflies to represent rebirth and growth. Since butterfly larvae transform within the cocoon and emerge as a beautiful creature people who have gone through tough times and emerged better and stronger.
The symbolism represented exactly how I felt this year and aligned with what I believe and want to express perfectly.
So I went with the butterflies and you will start to see them popping up on the site and in the newsletter in the months to come.
Venturing into video.  Yep, I am going to attempt to become the Mental Health Talk video personality (let's hope I don't suck!)  I will be doing video Superhero interviews and adding it as an option to the guest blogging process (to do a video interview or a vlog–we will figure out a way to edit the video if the Superhero wishes to remain anonymous).  I am also starting a YouTube channel to help promote your stories and drive more people to the blog.
Increase traffic to the site.  This year I will be focusing on getting more hits on the site.  I feel deeply committed to getting as many visitors as I can to Mental Health Talk so that our stories are read, our wisdom is heard, and we have the opportunity to help others feel less alone, misunderstood and lost.  I will be doing this through the YouTube Channel, guest blogging, and PR (my intention is media exposure).
New Partnership in 2012 (Most exciting!)
I am in dire need of Superhero guest bloggers.  Recruiting is taking so much of my time that I am not getting the chance to do the promotion I want to do for the site.  So I thought if I can't get people with mental health experience to come to me, I will go to them.
In December 2011, I pitched a project to the Krasman Centre.
The Krasman Centre is a community mental health drop-in centre, with locations in Richmond Hill and Alliston Ontario.  It is an organization that is governed, led and staffed by consumer/survivors and family members. They work with consumer/survivors and families to improve lives through information and education, self-help, mutual support and partnership. They promote wellness and recovery, and foster supports to help people stay well.
I really dig what the Krasman Centre is doing and it was my intention to create the opportunity to work with them.
I proposed that starting in April, they will become a regular contributor to Mental Health Talk.  I would volunteer one-on-one with the storytellers to support them in telling their stories and sharing their wisdom on this blog.
I decided to draw my presentation instead of using bullet points in PowerPoint.  I gave everyone at the presentation two 13×19 pieces of paper.
I would like to share one of these pages with you here:
(I'm the one in the glasses… I kind of look like ET if ET were human and had big hair!)
Well the day following my pitch, I heard from the Executive Director giving me a "yay" (versus a "nay") on moving forward with my proposed project.  Yippee!
I am very excited to be working with this group of people.  My peeps.
Your feedback is priceless to me
First of all, I want to invite you to use the comments below to give your feedback on Mental Health Talk version 2011.
What type of posts were most helpful?
Is there a different format that would encourage you to read the post?
Is the current bi-weekly newsletter format the best way to help you decide if the post is applicable to you?
What didn't you like about your visits to Mental Health Talk?
And if I also may invite you to use the comments below to give your feedback on Mental Health Talk version 2012.
What are your expectations for Mental Health Talk in the future?
What can I do to make Mental Health Talk a better experience for you?
Is there a topic you would like to see a personal story about?
Any suggestions/enhancements to my vision for 2012?
If you don't feel comfortable with leaving your feedback in the comments, please do not hesitate to email me at trish@mentalhealthtalk.info.
I want to hear it all because truthfully, sometimes I try something new and have no idea what kind of impact it is going to have on the Mental Health Talk community.
I do know that it is my intention this year and in the years to come to create an experience for my subscribers and readers that just gets better and better.
But I can't do it alone. I need your feedback.
Want to be a Superhero?
I had a great time working with the Superhero guest bloggers and I learned something about myself from each of them.
As the year progressed, I found that I began to attract more and more Superheroes who were willing to not only share part of their story, but to share the wisdom they've learned so far on their journey.
Awesome!
Last night I was reading one of my favourite books: The Book of Awakening by Mark Nepo.
The book is in day book format so each day of the year has an entry.   Technically I should have been reading the entry for December 31st but in reality, I was reading the entry for October 15.
Regardless, it was the perfect entry to support this post because Mr. Nepo describes beautifully what I advocate for and what I ask of all my guest bloggers:
For to carry the smallest crust of bread or truth that we can offer others always reminds us of two essential facts: that we do no live this life alone, and that no matter the severity of our own circumstance, we have something to give others.  The fact of this does not invalidate our pain, but affirms our worth, that even in pain we can be of value.
We all have something to share from our experience with mental health, regardless of where we are in the journey.
Is 2012 your year to share your experience and your wisdom?  I would love to work with you as a Superhero guest blogger.  You will find the guidelines here.
Wrapping up
Now it's time to end this post with my gratitude:
Thank YOU.
Thank you to all my Superhero guest bloggers.  There would be no blog without you.
Thank you to all my supporters, including my husband who is the technical wizard behind this site and my sounding board.  He makes me look good.
Every blog has a "Mom" and this blog is no exception.  Thank you to my Mom for reading all the posts, listening to my dreams for this site, and supporting me in the way that only she can (read her post–it is #6 on the list above!)
May I say thank YOU to you again?
Wishing you all the best in 2012.
Love & peace,
Trish
p.s. don't forget to check out what's coming up in the months ahead here.
This just in…
[added about 1 1/2 hours after publishing] I just heard that Mental Health Talk is a runner-up for the 2011 TWIM Best New Blog Award!  I am truly honoured and thank you to everyone who voted (and spammed Pandora over at TWIM).
Congratulations to all the winners and runner-ups!
Artwork credit: Trish Hurtubise