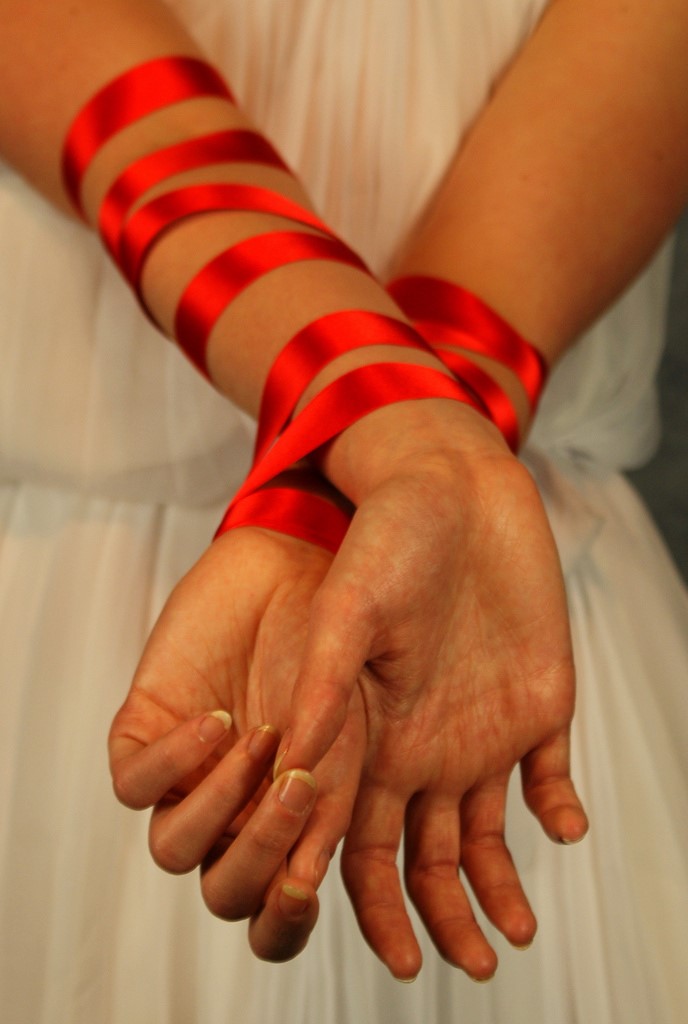 Written by MyCrazyBipolarLife
This post is a continuation from last week's featured post: My 16 Year Battle with Self Harm Part I.
Skip forward and there I was aged 21 with no friends of my own, a job I hated, very rare visits to my family and suddenly I just felt completely lost. I didn't turn up for work one day and instead I searched round various pharmacies until I could find what they call 'cut throat razor blades'. I returned home to our flat and took my clothes off then went and sat in the bath (with no water in it) whilst my fingers fondled these new blades.
My cutting up until the age of 21 had been mostly done in anger, I would cut harshly and not look as I dragged the blades over my skin, not caring about ripping myself open. But this time I was very calm and concentrated fully on what I was about to do. It was not by any means a suicide attempt, it was a way of grounding myself and bringing myself back into the moment. I wasn't particularly happy with life but at the same time I did love the man I was with very much.

I remember sitting in the empty bath and pushing this new blade hard and deep against my skin, I watched fascinated by how deep it could go. The blood didn't bother me – I was in the perfect place to wash it all away. So I sat and cut over and over down both of my arms and then turned the water on and watched all of the blood disappear down the plug hole. There was no hiding from him what I had done; I was so scared he would be one of the ones who recoil in horror that I couldn't relax around him that night. I was acting weird and I couldn't control it. He was getting more and more agitated with me and finally grabbed me by the wrist to get me to sit down next to him and I let out a little squeal as he touched me. He didn't ask, he didn't make eye contact, somehow he just seemed to know as he rolled my sleeve up a little.
From there I very quickly sunk into a deep and horrible depression, I moved back home to my parents and wouldn't leave the house. All I did all day was drink bottle after bottle of wine hoping I would start feeling normal again. After I had been back at my parents for about five months my Mum dragged me to see a doctor. It was so hot in the waiting room and I had to keep going outside for air. He finally called me in and I told my Mum to wait in the waiting room, I didn't want her in with me. At first I didn't know what to say to the doctor but slowly I revealed I was self harming, binge drinking, staying in bed all day, hardly ever taking a shower. I told him how my sleep was constantly disturbed and how I had sunk so low I'd even began having suicidal thoughts. I left that appointment with a prescription for anti-depressants. Back home I started taking the tablets and truly hoped that somehow they would be magic pills that would make me stop feeling so low and stop cutting myself. It didn't work that way of course. I was referred to the Community Mental Health Team (CMHT) and began seeing a Community Psychiatric Nurse (CPN) there. It was helpful to have someone I could talk to but my mood was still terribly low and in mid November 2003 at the age of 22 I tried to take my own life. This resulted in my first admission to an acute psychiatric ward. I was only in for a week and then came home.
I continued to see the CPN and also began having outpatient appointments with a psychiatrist. I was diagnosed with having severe depression and it was noted that I self harmed regularly. Even though I did it regularly I only went to Accident & Emergency a couple of times because I felt too ashamed to go and ask for help. But when you cut so deep that nothing will stop the bleeding you know you've hit a point where you need help asap. My mental health began to deteriorate even further and by the age of 24 I had developed Agoraphobia and major Anxiety despite my life actually being in quite a good place. I was happy in a new relationship but suicidally depressed. I had someone to wake up to in the morning and cuddle into; everything to the outsider was brilliant. It was the icing on the cake when aged 25 I fell pregnant. It was the first time in years where I wasn't on any medications and also did not self harm. Six months into the pregnancy I went into labour and sadly my little boy was stillborn. I could not deal with my grief properly – I was not offered any kind of help – so I turned back to what had always helped before and began self harming again. My partner tried his hardest to make me feel better but nothing he could say would help. Two years after the loss of our son he had two affairs and just six weeks before our wedding we split for good.
That was two years ago now and after yet another diagnosis (this time Bipolar Disorder) self harm is still a very big part of my life. My arms, legs, stomach and thighs are covered in scars that will never heal properly. My self harming behaviour has changed in that I no longer cut superficially all over my arms, but instead I will only do one or two cuts but as deeply as I can manage. It is because of this that my scars are so bad.
Sixteen years after I made that very first cut I am a 29 year old woman who hides under long sleeved tops and trousers. I have made two other suicide attempts and spent almost four months in hospital between November 2010 and February 2011. I woke up on New Year's Day in a psychiatric hospital. I have been detained under the mental health act twice in that time and during the time I was in hospital I couldn't cut myself so I began burning myself instead. People ask me why I don't stop and I don't know the answer. It has become my safety net, it provides comfort to me when I'm alone in my flat and can concentrate for hours as I cut again and again. The self harming behaviours become addictive and habitual. It is the one thing I can always rely on to make me feel better, even if only for an hour or two before the guilt and self loathing kick in as I keep looking at what I have done to myself.
People self harm for a variety of reasons, but like me they tend to have low self esteem and somehow hurting themselves makes another part of themselves feel better. Maybe it's that rush of adrenalin that you feel when you do it or maybe it truly is a physical addiction, I don't know. All I know now is that I wish I had never made that first cut but equally every single scar on my body could have been a time that I would have tried to end my life if I didn't have the self harm as a release. If you are affected by self harm you are NOT alone. It doesn't matter which method you use to inflict pain upon yourself, there will be someone else who knows exactly what you are going through. The majority of doctors and nurses who I have met have been non-judgmental and some of them even quite sympathetic. If you self harm and haven't sought any help I can understand why not and I can understand what you are afraid of, but I urge you to just make that first step and feel the relief that comes over you as you say those words out loud for the first time. It could be to a friend or family member, a teacher or a doctor, or even anonymously to a stranger at the end of a phone helpline. I'm not promising that it will make you stop self harming but I do think that once you can say it out loud you can open that door and start to understand why you made that very first cut.
I have six months to go before I turn 30. I have no idea if I will ever stop self harming, for now it's still my crutch. I hope that one day I will no longer feel as though I have to do it to myself and perhaps one day I will find myself turning to self compassion rather than self injury.
Photo credit: Rio Carciero
You can find out more about MyCrazyBipolarLife on her blog or twitter.

To read more MHT guest posts from MCBL, please click here.
UPDATE: MyCrazyBipolarLife died in January 2014. She is deeply missed by the mental health blogging community for her award-winning contribution–always truthful and raw. She touched many of us and I am grateful to have had the honour to have worked with her on a number of posts.